So I just watched the
totally horrifying documentary "Crazy Love"
on Sundance. Yet, when it was over, all I could think about was diner food, since the main characters are seen eating at the
Shalimar Diner
in Rego Park. It got me thinking...
Here are the diners that I have known and loved (and feared) in my 32 years on
this planet we call, uh, earth
.
The Landmark Diner
How much of my teenage life did I spent at this diner, eating french fries, baklava, smoking cigarettes and laughing my ass off? A lot. It was a pretty good diner, food-wise. They were very tolerant of idiots like my friends sitting for hours and splitting a pizza bagel and three cups of coffee. It had a lovely pink glow and whiteish stone exterior. A late 70's, early 80's aesthetic I find very comforting in diner architecture. Now it's gone. Well, it's relocated and rebuilt next door.
I dunno. It looks kind of retro to me. Like a brand new Rickenbacker guitar or something. It even has a Twitter page. Bah.
The Seacrest Diner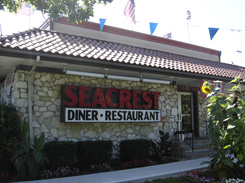 This is the diner of despair. Not only were there terrifying live lobsters in tanks at the front of the restaurant that terrified me as a child, it always seemed to be the place you were taken after something bad happened: A death in the family, someone was sick...
The diner was also t
he scene of a horrific crime
. In 1982, five young men from Brooklyn stole a car, committed a terrifying home invasion in Plainview, Long Island. The night of violence, rape and murder ended at this diner.
Per the New York Times: "...early the next morning, when the men burst into the Seacrest wielding handguns and a shotgun, then robbed and terrorized customers, demanding that they strip and ordering some to have sex with each other. At least one waitress was raped. Two young men were shot. Mr. Bouloukos [the owner] and several others were pistol-whipped, and all 80 or so people inside were held hostage for more than an hour."
It is because of this sickening and traumatizing event that we all called this diner the "rape diner" and avoided it at all costs. My grandparents seemed to like it, I have no idea why.

The Carle Place Diner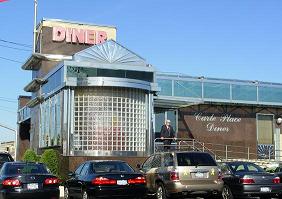 This diner was conveniently located near the Roosevelt Field Mall and Tower Records, two other places where I misspent my youth. I think it was pretty good. Wait, it's coming back to me. I think I once had disco fries here with a former camp counselor. She had been fired that summer for fellating a fellow counselor while drunk on the soccer field. Her name began with an A... it will come to me (no pun intended... haha).

The Neptune Diner
This diner is pretty good and located very close to where I live in Astoria. My husband likes that they feature the fact that they make a point that they serve "chops", which he thinks is delightfully old school. They were nice here. Good "sea" motif.

The Scobee Diner
This is great diner! The craziest thing is that when I moved into my apartment and was putting away my dishes, the previous owners had left behind a cup and saucer from the Scobee Diner! Perhaps they had stolen the china as a memento of a yummy meal or something. My husband likes to drink espresso from it. Lots of famous people have been here, so says the signed photos on the walls.

The Seven Seas
I don't remember much about this place. I think I have it confused with the Seacrest Diner (terrifying entry higher up). Maybe this was the place my grandparents liked. Jesus, I'm not as good at this as I thought. I can't even find a photo.

And there are others. Many have burned down. Many are lost in a haze of grilled cheese sandwiches and turkey burger deluxe platters.
Have I missed any?