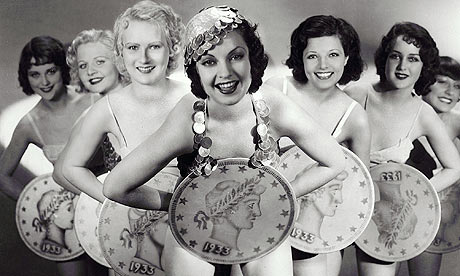 Felt pretty crummy last night and so I watched the amazing depression-musical-farce-comedy "Golddiggers of 1933." It's full of snappy one-liners, gals with sass and overly orchestrated hallucination inducing Busby Berkeley musical numbers that remind me of the North Korean
Mass Games
.
The movie is worth it, just for the iconic opening song. Or you can just watch Ginger Rogers charm the shit out of the Depression here:
And I'm not sure if this was a pre-code film but there's plenty of spice to balance out the family fun. Love those chubby-legged chorus girls! Those were the days... Except don't get "Pettin' in the Park" stuck in your head. You'll end up in the crazy house.
Oh hell, watch it anyway. It's adorably insane.
Anyhoo, I'm headed to
Otto's Shrunken Head
to meet some pals for a drink.